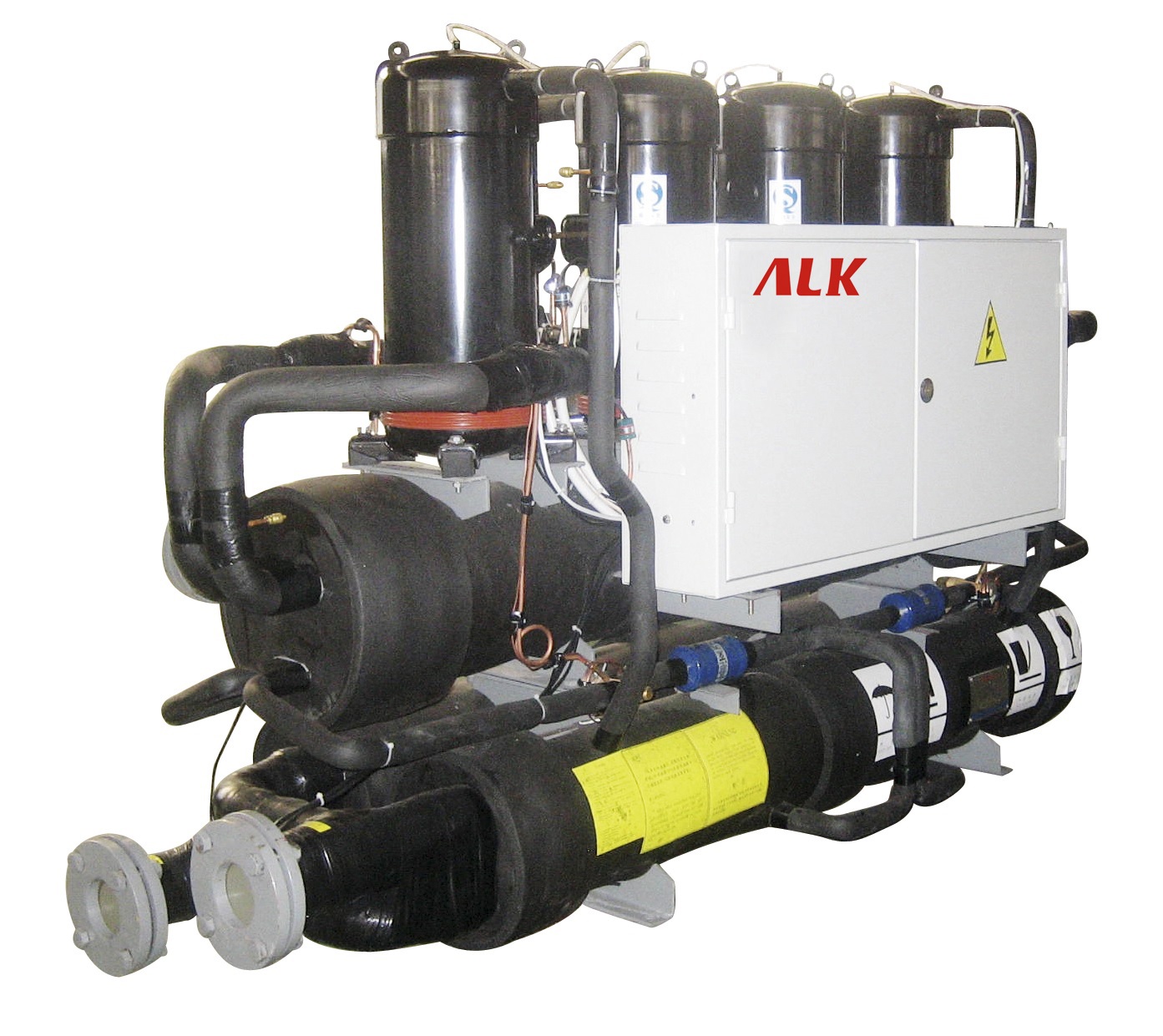 SHELL & TUBE WATER SOURCE HEAT PUMP
Capacity: 68÷306 KW
Refrigerant:R410a,R407C ﹠ R22
High energy efficiency
FEATURES
• 16 sizes available ranging from 68kW to 306kW cooling capacity.
• Wide application as hotel, apartment, villa, factory, shopping center, office building, school, etc.
• Hermetic scroll compressor, each compressor is equipped with a crankcase heater and a thermal overload cut-out.
• The refrigerant circuit is complete with sight glass, filter drier, high and low pressure gauges, solenoid valve, direct expansion valve, high and low pressure switch.
• Shell and tube dry expansion type condenser, factory insulated with flexible close cell material.
• The electric panel consists of compressor breaker, compressor contactor, phase sequence relay, control circuit breaker, microprocessor control with function display.
• LCD display, touch screen control panel as standard.
• Automatic operation dramatically reducing maintenance cost thanks to reliable microprocessor system.
Optional
• Electronic controller with BMS system.
TECHNICAL DATA(performance under ground water source condition)
Model

SWDR68

SWDR102

SWDR136

SWDR170

SWDR205

SWDR238

SWDR272

SWDR306

Nominal cooling capacity

KW

68

102

136

170

205

238

272

306

kcal/h

58469

87704

116939

146174

176268

204643

233878

263113

Total power input of cooling

KW

13.5

20.3

27.1

33.9

40.8

47.3

54.1

60.4

Nominal heating capacity

KW

78

111

150

186

221

267

303

339

kcal/h

67068

95443

128977

159931

190026

229579

260533

291488

Total power input of heating

KW

17.1

24.6

33.2

41.3

48.9

58.5

66.1

73.6

Power supply

3PH, 380V, 50Hz

Refrigerant type

R22 or R407C,R410A

Running control method

Programmable logical control, fully automation

Safe protection

water-lackage delay protection,high and low pressure switch, freeze protection device, overheat protection, overload protection device,phase sequence and short of phase protection, safety valve

Compressor

type

scroll compressor

Evaporator

type

shell & tube

water flow range

m3/h

11.7

17.5

23.4

29.2

35.3

40.9

46.8

52.6

water resistance

kPa

35

40

45

50

50

55

55

60

water inlet/outlet pipe diameter

mm

DN80

DN80

DN80

DN80

DN80

DN100

DN100

DN100

Condenser

type

shell & tube

water flow range

m3/h

6.4

9.6

12.8

15.9

19.2

22.3

25.5

28.6

water resistance

kPa

35

40

45

50

50

55

55

60

water inlet/outlet pipe diameter

mm

DN65

DN65

DN65

DN65

DN65

DN80

DN80

DN80

External dimension

length

mm

2400

2400

2400

2400

2400

2400

2400

2400

width

mm

675

675

1365

1365

1365

2040

2040

2040

height

mm

1340

1340

1420

1420

1420

1420

1420

1420

Noise level

DB/(A)

65

65

66

67

68

70

71

72

Net weight

kg

490

606

1020

1130

1250

1640

1760

1880
Remark:
cooling capacity under condition: Source side water inlet/outlet temperature 18℃/29℃,user side water inlet/outlet temperature 12℃/7℃
Heating capacity under condition: Source side water inlet temperature 15℃,user side water inlet temperature 40℃
TECHNICAL DATA(performance under ground water loop pipe condition)
Model

 

SWDR68

SWDR102

SWDR136

SWDR170

SWDR205

SWDR238

SWDR272

SWDR306

Nominal cooling capacity

KW

67

100

134

165

197

235

267

296

kcal/h

57610

85985

115219

141874

169390

202064

229579

254514

Total power input of cooling

KW

13.5

20.3

27.3

33.6

40.1

47.9

53.7

60.1

Nominal heating capacity

KW

68.5

103

142

183

205

246

274

302

kcal/h

58899

88564

122098

157352

176268

211522

235598

259673

Total power input of heating

KW

16.7

25.1

34.3

43.9

49.2

58.7

65.3

71.8

Power supply

 

3PH, 380V, 50Hz

Refrigerant type

 

R22 or R407C

Running control method

 

Programmable logical control, fully automation

Safe protection

water-lackage delay protection,high and low pressure switch, freeze protection device, overheat protection, overload protection device,phase sequence and short of phase protection, safety valve

Compressor

type

 

scroll compressor

Evaporator

type

 

shell & tube

water flow range

m3/h

11.5

17.2

23

28.4

33.9

40.4

45.9

50.9

water resistance

kPa

35

40

45

50

50

55

55

60

water inlet/outlet pipe diameter

mm

DN80

DN80

DN80

DN80

DN80

DN100

DN100

DN100

Condenser

type

 

shell & tube

water flow range

m3/h

13.8

20.7

27.7

34.2

40.8

48.7

55.2

61.2

water resistance

kPa

35

40

45

50

50

55

55

60

water inlet/outlet pipe diameter

mm

DN65

DN65

DN65

DN65

DN65

DN80

DN80

DN80

External dimension

length

mm

2400

2400

2400

2400

2400

2400

2400

2400

width

mm

675

675

1365

1365

1365

2040

2040

2040

height

mm

1340

1340

1420

1420

1420

1420

1420

1420

Noise level

DB/(A)

65

65

66

67

68

70

71

72

Net weight

kg

490

606

1020

1130

1250

1640

1760

1880
Remark:
cooling capacity under condition: Source side water inlet/outlet temperature 18℃/29℃,user side water inlet/outlet temperature 12℃/7℃
Heating capacity under condition: Source side water inlet temperature 15℃,user side water inlet temperature 40℃